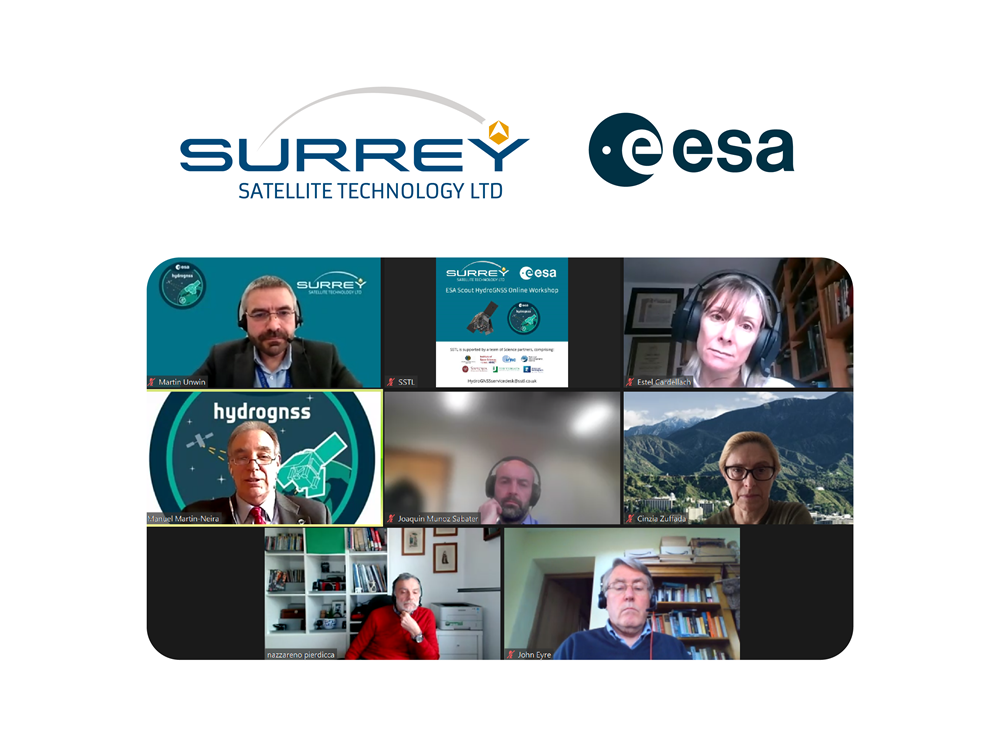 SSTL recently hosted a popular online ESA Scout HydroGNSS Workshop attended by an average of 175 participants across 2 days of presentations. We are pleased to share the session recordings with you - please either visit the HydroGNSS Workshop playlist on our YouTube channel, or watch the sessions via the embedded videos below.
What is the ESA Scout HydroGNSS mission?
HydroGNSS is the second mission in the ESA Scout programme, demonstrating Earth Observation science with a small budget and rapid schedule. HydroGNSS is a 55kg satellite that will take measurements of key hydrological climate variables, including soil moisture, freeze thaw state over permafrost, inundation and wetlands, and above ground biomass. It uses a technique called GNSS Reflectometry that exploits signals from Global Navigation Satellites Systems as radar signal sources. These signals reflect off the land, ice and ocean and are used by a low power receiver in Low Earth Orbit to yield important geophysical measurements.
Who is the Workshop aimed at?
This workshop is aimed at potential users of HydroGNSS measurements for climate and meteorological models, researchers working in complementary EO missions, and those with an interest in GNSS reflectometry as a future Earth observation technique sustainable through the use of small satellite constellations.
Day 1, Session 1: Introduction to HydroGNSS
This video covers an introduction to the HydroGNSS mission and keynote speeches from Maurice Borgeaud, Head of Science Apps and Climate at ESA, Dominique Gillieron, Head of Earth Explorer Programme at ESA, Beth Greenaway, Head of EO and Climate at the UK Space Agency, Sir Martin Sweeting, Executive Chairman at SSTL, Manuel Martin Neira, Principal Engineer at ESA, Martin Unwin and Peter Garner, HydroGNSS Mission Leads at SSTL.
Day 1, Session 2: HydroGNSS Data Products
This video covers HydroGNSS Data Products and how the satellite will collect parameters closely connected with Essential Climate Variables (ECVs) with details of soil moisture, inundation, freeze/thaw and biomass, ocean wind speed and sea ice extent.
Speakers: Nazzareno Pierdicca at Sapienza, Kimmo Rautiainen at FMI, Estel Cardeilach at ICE-CSIC/IEEC, Emanuele Santi at IFAC and Guiseppe Foti at NOC.
Day 1, Session 3: HydroGNSS Mission Outline
This video covers the satellite, instrument, measurements, ground segment and related areas.
Speakers: Serena Donati, Reynolt de Vos van Steerwijk, Jonathan Rawlinson, and Martin Unwin - all from SSTL.
Day 1, Session 4: HydroGNSS Mission Outline cont, & Research Topics in GNSS-R
This video covers the satellite, instrument, measurements, ground segment and related areas plus further research topics and opportunities in GNSS-Reflectometry will be discussed.
Speakers: Andy Newton at SSTL, Nazzareno Pierdicca at Sapienza, Gabrielle Marigold at SSTL, Klaus Scipal at ESA, Clara Chew at UCAR
Day 2, Session 1: Related Research Supporting the Mission
This video covers related research supporting the mission, including GNSS technology, on-board digital elevation, measurement and modelling of reflections off land surfaces.
Speakers: Lucinda King at the University of Surrey, Paul Blunt at the University of Nottingham, Leila Guerrirro, Tor Vergata, and Davide Comite at Sapienza, Weiquiang Li at ICE-CSIC/IEEC, Maurizio di Bisceglie and Lilli Ganni at Uni Sannio
Day 2, Session 2: Potential Users of HydroGNSS
This video covers potential future users of HydroGNSS to share experience of validation and assimilation of data into models for improving the knowledge of climate change and weather.
Speakers: Mehrez Zribi at Cesbio, Clement Albergel at ESA, Joaquin Munoz Sabater at ECMWF, Wolfgang Wagner at TuWien, Milad Asgarimehr at GFZ.
Day 2, Session 3: Mission Synergy
This video covers experiences from previously launched GNSS-Reflectometry missions to identify synergies and lessons learnt.
Speakers: Adriano Camps at UPC, Cong Yin at NSSC, China, Phil Jales at Spire, Hugo Carreno Luengo at U-M
Day 2, Session 4: Further Research Prospects and Round Table Discussion
This video covers further research topics in GNSS-R along with the opportunities that HydroGNSS provides. This session ends with a panel discussion on the main themes of the workshop and areas for discussion and collaboration.
Speakers: Brandi Downs at OSU, Erice Loria at JPL, Martin Unwin and SSTL team, Jean-Pascal Lejault at ESA, and Phil Brownnett at SSTL.
Day 2, Session 4: Round Table Discussion