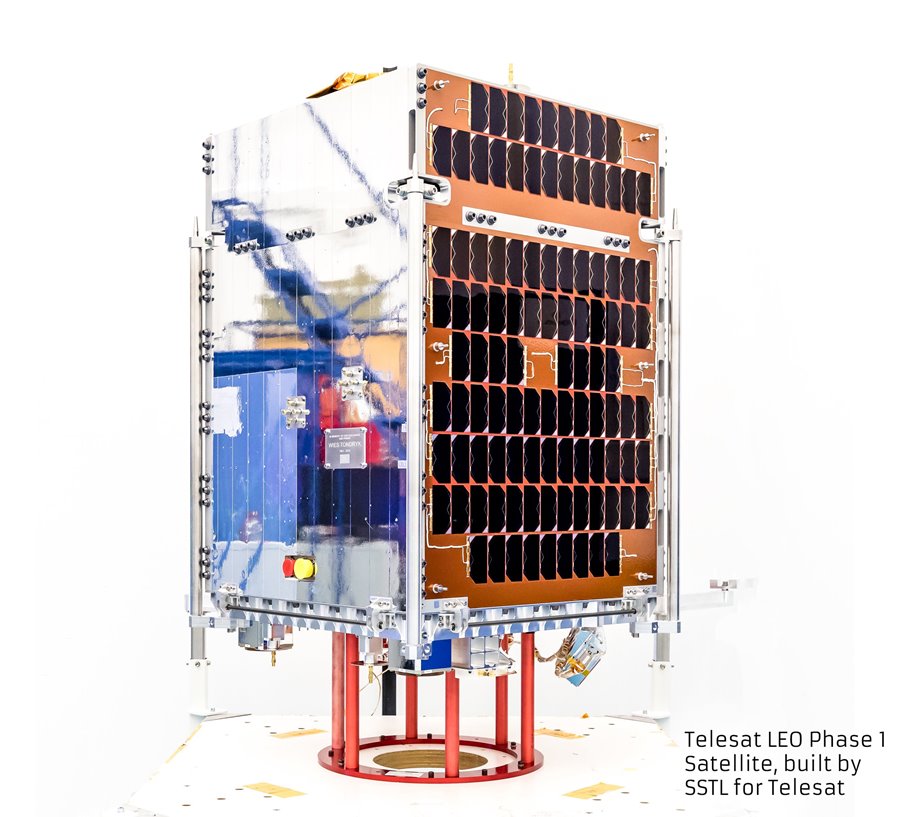 Telesat Leo Phase 1 - a pioneering small satellite
Telesat Leo Phase 1 was manufactured by SSTL for Telesat, a leading global satellite operator, as part of a test and validation phase for an advanced, global LEO satellite constellation. The spacecraft utilises heritage COTS components and was built and tested in just 17 months, and launched in 2018. The spacecraft flies an SSTL-built Ka payload, and utilises hydrazine propulsion systems for in-orbit raising and de-orbiting - both Firsts for SSTL. The communication payload consists of a Ka-band bent pipe which includes the provision for Ka-band TTC allowing the customer to directly operate the spacecraft from their own groundstation
The 5G test
The 5G connectivity test, which was conducted at the University of Surrey's 5G Innovation Centre (5GIC), connected their 5G test network to the Telesat LEO Phase 1 satellite for a limited series of tests, which represented the World's first 5G connection over a LEO satellite. Test results confirmed latencies of between 18-40mS and throughputs up to 60Mbps for the most favourable visible orbits. This enabled backhaul with video services of both 4k and 8k TV of excellent quality to be demonstrated as well as internet connections.
5G - increased bandwidth, data transfer and speeds
One of the key requirements across various industry white papers is ensuring high availability and service reliability via ubiquitous coverage. For a 100% geographic coverage requirement case, satellites are ideal in covering areas that cannot be covered by terrestrial networks.
There are several use cases that can only be served by satellites, and there are other use cases for which satellites provide a more efficient solution:
Areas where it is not possible to deploy terrestrial towers: For example, maritime services, coverage on lakes, islands, mountains or other recreational areas that can only be covered by the satellites
Disaster relief: During natural disasters or other unforeseen events that entirely disable the terrestrial network, satellites are the only option.
Emergency response: Besides wide scale natural disasters, there are specific emergency situations in areas where there is no terrestrial coverage. For example a public safety uses case of an accident in a power plant.
Secondary/backup connection (limited in capability) in the event of the primary connection failure or for connected cars
Connectivity in rural areas that are hard to cover using terrestrial networks
Connectivity for remotely deployed sensors, e.g. farms, substations, gas pipelines, digital signage, remote road alerts, etc.
Low bit-rate broadcast services: Satellites can broadcast wide area emergency messages at a more efficient rate than terrestrial networks.
5GIC at the University of Surrey
5GIC at the University of Surrey houses one of the World's first 5G test networks with 3GPP Rel 15 compliant core and radio access networks including around 50 small cells spread around the campus and surrounds. This has enabled various terrestrial user trials over the last two years and involvement in the EU project Sat5G has enabled 5GIC to extend the network to integration with satellite equipment.
In 2018 5GIC demonstrated a first 5G satellite backhaul via an SES GEO satellite and a video to the edge connection demonstrated at the EU CNC 2018 conference.
Barry Evans, Head of Satellite Communications Research at the University of Surrey, said "The University of Surrey via its 5G Innovation Centre was extremely pleased to participate with Telesat and Vodafone in these trials, as well as Gilat and Newtec who supplied the modems. This is an excellent example of how the 5GIC participates with industry to demonstrate 5G use cases in both terrestrial and satellite domains and we consider that satellites will be key to the wider rollout of 5G and their integration within the new 5G ecosystem in an important enabler. "