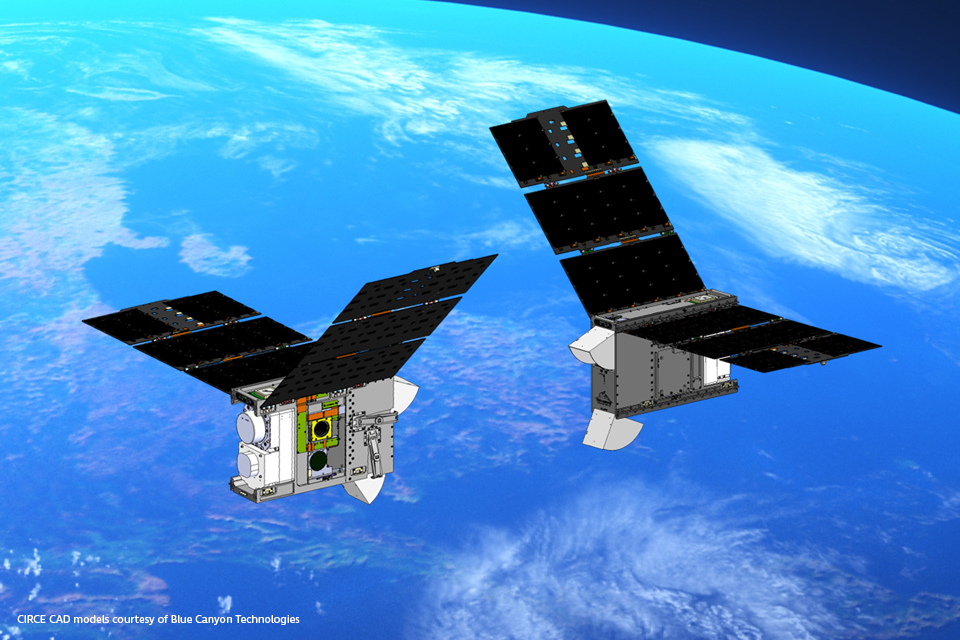 The CIRCE space weather suite has been announced for first UK satellite launch aboard Virgin Orbit which is aiming to launch from Spaceport Cornwall later in 2022.
The Coordinated Ionospheric Reconstruction Cubesat Experiment (CIRCE) satellite mission comprises two 6U cube-satellites that will be launched into a near-polar low Earth orbit in a string-of-pearls configuration (targeting 555 kilometres altitude). Each 6U satellite bus measures 10cm by 20cm by 30cm (the size of a cereal box), and will fly almost identical instrument capability on both satellites. Dstl is partnering with the US Naval Research Laboratory (NRL) on the joint mission.
The UK contribution to CIRCE is the In-situ and Remote Ionospheric Sensing (IRIS) suite, complementary to NRL sensors and comprising 3 highly miniaturised payloads developed for Dstl by University College London (UCL), University of Bath, and Surrey Satellite Technology Ltd drawing on expertise from the University of Surrey. CIRCE will characterise a region of the space environment, the ionosphere, which is important for a range of defence and civil applications and can impact GPS, communications and sensing technology – both in space and on the ground.
IRIS Suite
IRIS provides in-situ ionospheric particle and radiation measurements (INMS and RadMon), combined with remote-sensing of triple-frequency GPS signals to map the topside ionosphere and beyond (TOPCAT). The UK data will provide useful information in their own right, as well as providing contextual environmental information for CIRCE, and enrich the science that can be derived from NRL's triple tiny ionospheric photometry (Tri-TIP) ultra violet optics cameras, for tomographic specification of electron density.
The IRIS suite, integrated by SSTL, includes:
An Ion and Neutral Mass Spectrometer (INMS), developed by UCL's Mullard Space Science Laboratory, which will improve understanding of the variability of atmospheric drag, the chemistry of the thermosphere and the impact of space weather on the upper-atmosphere;
A Radiation Monitor (RadMon) from SSTL will identify areas of increased radiation for satellites to avoid, help identify suitable orbits and shielding requirements for future satellites, and highlight dynamic radiation enhancements that can be cross-correlated with payload and subsystem anomalies;
TOPCAT, developed by Bath University's department of Electronic and Electrical Engineering, which will look at remote sensing of triple-frequency GPS signals, and validate the UK's Multi-Instrument Data Analysis System (MIDAS) tomography algorithm for the topside ionosphere and plasmasphere, by using total electron content (TEC) measurements from the differential phase of GPS signals, inverting them to derive the electron density of the region.