Our ambition is to offer cost-effective and high performance communications and navigation data for lunar assets whatever their position on or around the Moon.
LUNAR PATHFINDER
SSTL's Lunar Pathfinder is a single spacecraft in lunar orbit due to launch in 2025, designed with the objective of offering communication services to a number of lunar assets (surface or orbiter), as well as hosting a number of navigation and scientific experiments.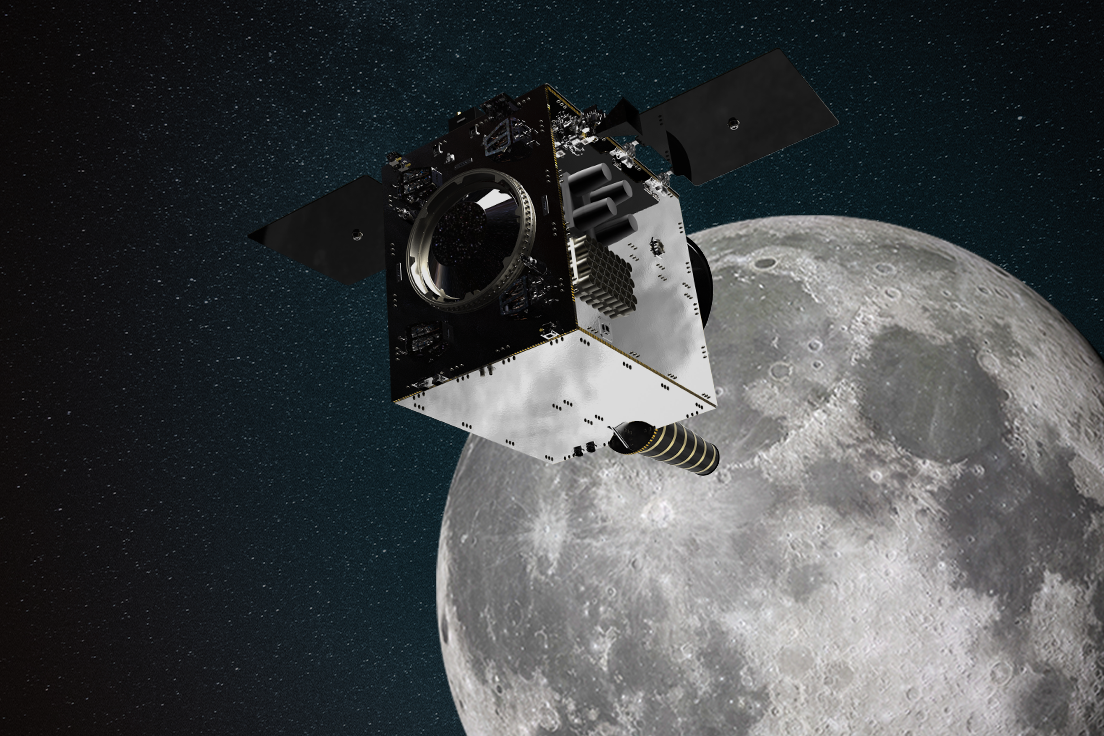 Communication Services
Lunar Pathfinder is due to operate in an Elliptical Lunar Frozen Orbit (ELFO) for an operational lifetime of 8 years. The spacecraft can operate 2 simultaneous channels of communication with lunar assets: 1 in S-band and 1 in UHF. Performance, such as coverage and data-rate, depend both on the relative position of the user asset to Pathfinder at the moment of the connection, as well as the capabilities of the communication module onboard the user asset. Once safely retrieved onboard Lunar Pathfinder, communications are relayed back to Earth ground stations in X-band.
For surface assets on the far side of the Moon, the use of data-relay infrastructure is a requirement for their missions. Without of line of sight of the Earth, they need a data-relay service such as the one offered by Lunar Pathfinder to communicate back with Earth. For polar surface assets, potentially with limited direct to Earth visibility, the use of the data-relay service provides the assurance of a communication link, whatever obstacle the terrain may put between the asset and the Earth. Rovers, constrained to remain within line of sight of the lander to relay their communication, will find a new independence, both in how far they can go from the lander and how long they can survive beyond the lander's limited lifetime.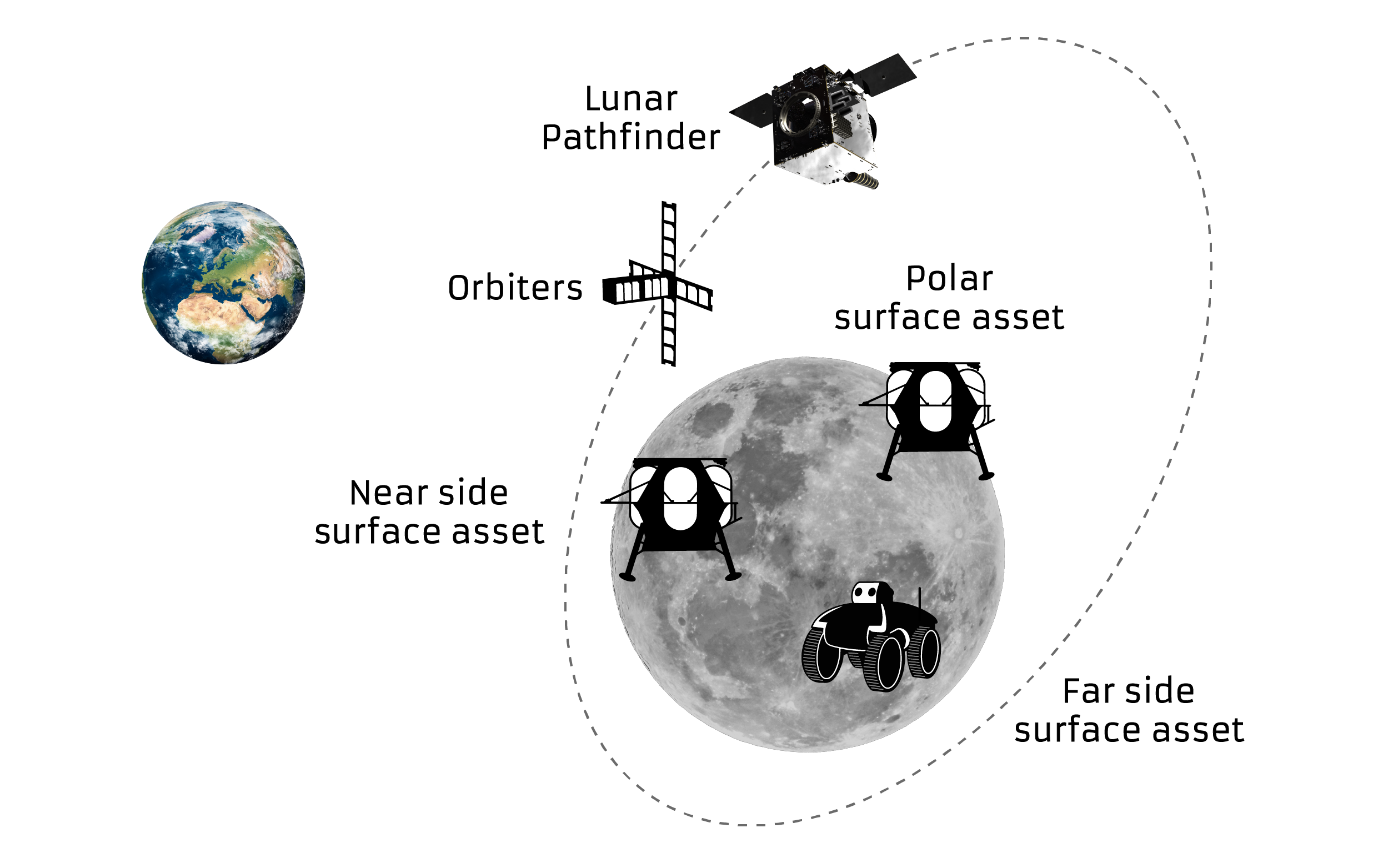 For all lunar missions, including orbiters and near side surface assets, which could manage with direct to Earth communication (DTE), there is an additional economical and technical benefit to using the proximity data-relay service. Due to the proximity of the Lunar Pathfinder spacecraft, user assets could achieve higher data-rates with a lower performance, lower mass and lower cost communication module on-board, compared with the equipment needed for DTE communication.
Enter a basic specification of your lunar mission and our App will calculate the service that you could receive.
Hosted Payloads
In addition to communication services, the Lunar Pathfinder spacecraft has been selected by ESA and NASA to host a number of experimental payloads:
An ESA GNSS receiver capable of detecting weak signals coming from the Earth GNSS infrastructure (GPS and Galileo), demonstrating its potential role into Lunar navigation
A NASA retro-reflector to demonstrate laser ranging capabilities
An ESA radiation monitor to study orbital radiation conditions
Acting both as technology and service demonstrator, Lunar Pathfinder is the opportunity for scientific and commercial mission developers to support the development, test and standardisation of Lunar communication infrastructure, and for emerging off-planet telcos to acquire experience of lunar asset operations and off-planet service delivery.
Lunar Pathfinder User Manual
The Lunar Pathfinder Service Guide can be found here.
Contact Us
Get in touch about the communications services we can offer via our Lunar Pathfinder mission - lunar@sstl.co.uk
ESA MOONLIGHT
Surrey Satellite Technology Ltd (SSTL) has been selected by the European Space Agency (ESA) to lead a Phase A/B1 Study under ESA's Moonlight initiative that will shape the service provision and infrastructure to provide sustainable commercial Lunar data-relay services for communication and navigation around the Moon.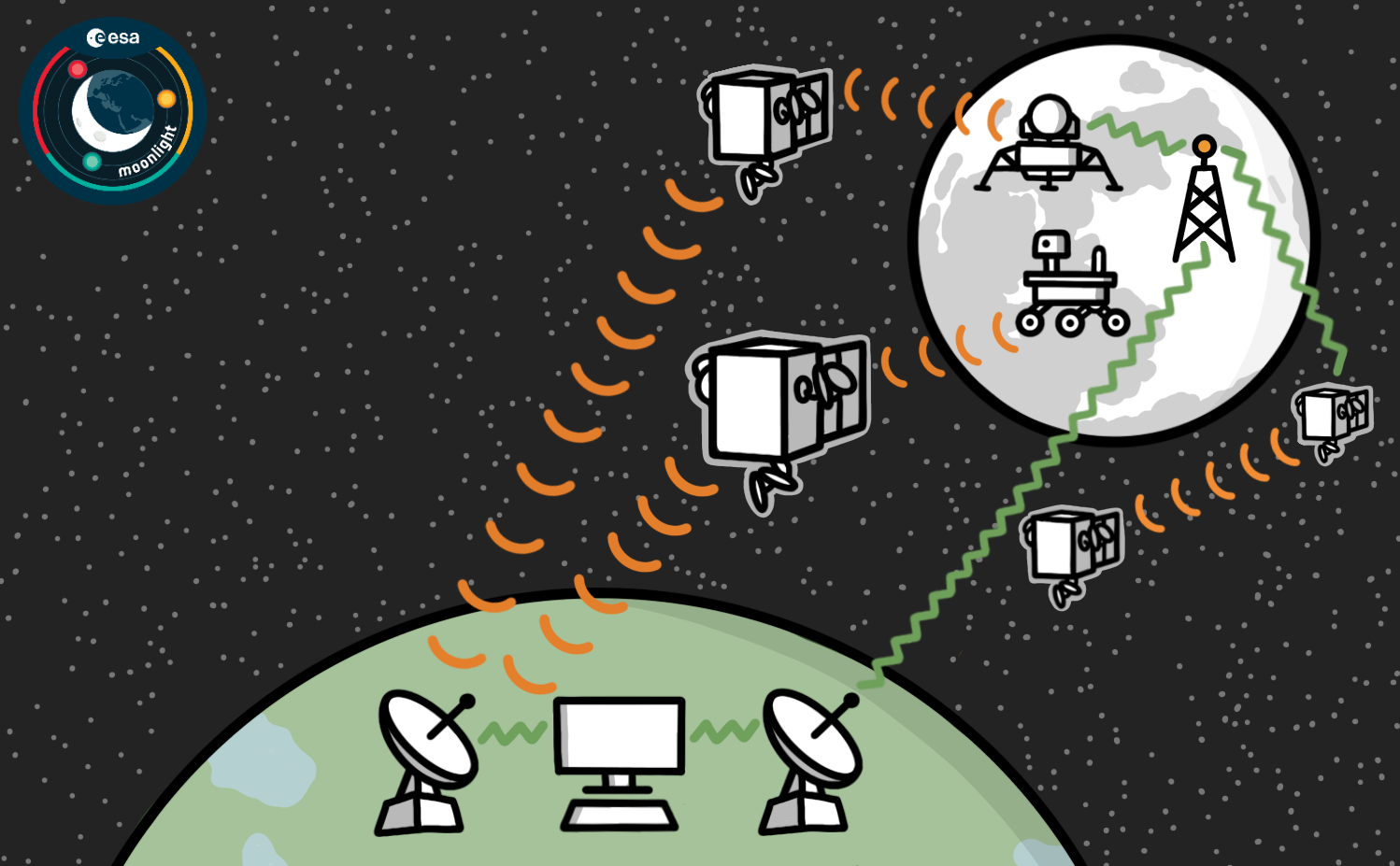 The Moonlight Phase A/B1 Study will define the service infrastructure and clearly lay out the development path for a constellation of lunar communication and navigation satellites. The Study will characterise the complete end to end system, including the Lunar Space Segment, the Moon Surface Segment, the Lunar User Segment and the Earth Ground Segment. In addition to the technical solution, the study also considers the business elements of setting up an off-planet communication and navigation service providers, looking at opportunities for win-win partnership between public and private sectors, sustainable services, infrastructure, job creation and technology development.
A constellation of interconnected lunar orbiters will enable surface missions operating on the far side of the Moon, without direct to Earth line of sight, to keep constant contact with Earth. It will also provide lunar navigation signals to support critical mission phases such as precision landing of scientific equipment and the operation of rovers.
SSTL Lunar will lead the consortium of experienced European space companies which will bring wide ranging skills and capability to all aspects of the study.
SSTL LUNAR IN THE NEWS