Sompong Liangrocapart, Professor at Mahanakorn University of Technology, participant of Thai-Phat programme,1995-1997
Thai-Paht was the first Thai microsatellite and was launched in 1998 for Mahanikorn University in Bangkok. A team of 12 engineers from the University completed a technology transfer programme in the UK with SSTL.
Sompong Liangrocapart participated in the programme and shares his views:

The programme helped his career:

He reflects about the experience at SSTL:

Messaoud Bensaada, Power Systems Team Leader at ASAL, participant of the ALSAT-1B programme, 2014-2016
The Alsat-1B space mission training programme was the continuation and enhancement of the Alsat-1 programme (2002). 18 ASAL engineers took part in an extensive hands-on activities in the UK throughout the whole of the mission, allowing a safe handover of the spacecraft platform for the integration and testing in the new Assembly, Integration and Test facilities in Algeria.
Messaoud Bensaada was a power engineer during the project:

He really enjoyed the hands-on aspects of the project:

Alsat-1B project as well involve a development of a cubesat mission with Surrey Space Centre and education of 10 ASAL engineers at University of Surrey.
Rodrigo Suarez, Professor at Technical University Federico Santa María, participant of FASAT-Alfa and Bravo programmes, 1994-1998
Rodrigo Suarez was one of the Chilean Air Force Engineers taking part in the technology transfer programme under FASAT A&B projects.
Currently a professor at the Technical University Federico Santa Maria, he believes that:

He remembers time at SSTL very fondly:

Participation in an international space project can have a great impact both at the organisational and personal level.

Ugur Murat Leloglu, Professor at Middle East Technical University, participant of BILSAT-1 programme, 2001-2003
BILSAT-1 was the first Turkish Scientific Earth Observation satellite and was built under a training and development programme between SSTL and TUBITAK-BILTEN. The satellite benefited from on-board propulsion, GPS navigation and included experimental payloads including a multi-band imaging system, a real time image compression module, a GPS attitude receiver and a Control Moment Gyro.
12 Turkish engineers took part in the know-how transfer programme for the 2 years.
Ugur Murat Leloglu shares his view on how the programme helped his professional career: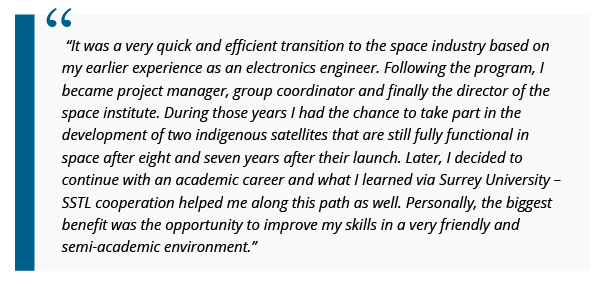 The BILSAT-1 programme had tremendous impact on the Turkish space landscape: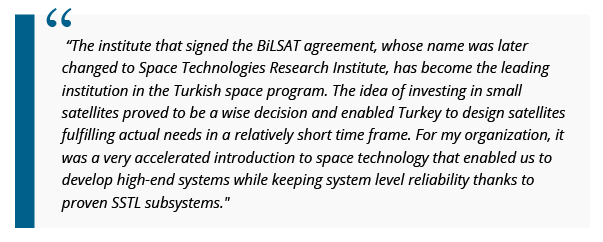 He believes that:

As a result of the programme Turkey set up an infrastructure on the ground including a ground station, a clean room and a manufacturing facility in Ankara.
SSTL provided a licence to reuse the technology, which contributed to the next satellite built entirely in Turkey- RASAT.
Ugur has published more than 40 research publications including:
Establishing space industry in developing countries: Opportunities and difficulties
On-orbit modulation transfer function estimation for BILSAT imagers.
A Compact Imager Design Concept for Micro/Nanosatellites Using Scanning Mirrors

Technical Satellite Lead, participant of BILSAT-1, 2001-2002
BILSAT-1 was the first indigenous satellite of Turkey. The SSTL Training Programme focused on developing skills to build up the national space capacity and encourage the Turkish space industry to become fully sustainable in the future. It covered all aspects of satellite life-cycle and provided a unique combination of formal and hands-on training to ensure full capability transfer.

Know-how transfer programmes are an excellent way to start space activities with a safety net of an experienced partner:

The space industry is an interesting and exciting market, which attracts young people and encourages STEM education. The most exciting part of the project was: "The first signal from the satellite once it was in space and the operations afterwards."