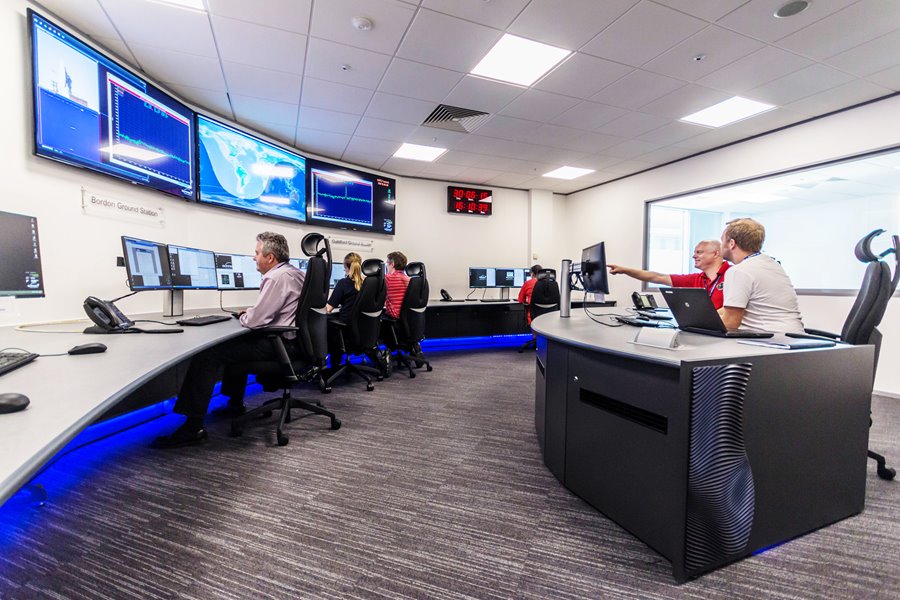 We have our own Satellite Operations Centre (SOC) located at our headquarters in Guildford. We have accumulated over 200 years of in-orbit satellite operations through our automated Satellite Operations Centre, monitoring satellites 24 hours a day.
Our Satellite Operations Centre has access to SSTL Ground Stations located in the UK and Svalbard. In addition to these, SSTL is part of the Viasat Real Time Earth (RTE) network, hosting one of the RTE ground stations at our Guildford site. Our Satellite Operators command and control SSTL satellites to support not only SSTL's own missions but to provide in-orbit support to SSTL customer missions when required. The system is designed to operate 'lights out' taking advantage of automation on the platform and on the ground to minimise staffing.
Managed Services
Not all customers want to invest in the infrastructure and staff to run a mission themselves. At SSTL we understand these needs and can provide managed services to allow customers to make the most of their mission by using our expertise and infrastructure. From providing access to Ground Networks to running Satellite Operations, we have a range of options with differing levels of service depending on customer requirements.
Some examples of our Managed Services:
UK DMC 2
SSTL runs the day to day in-orbit operations of this Remote Sensing satellite. All payload planning is performed by Airbus. We upload payload schedule files on a daily basis and download the resulting image data for collection by Airbus.
Exactview-1
This AIS satellite is operated by SSTL for Exact Earth. Exact Earth provide weekly AIS payload schedules and we upload these as part of its operational activities. Payload data is downloaded to SSTL Ground Stations and Exact Earth Ground Stations before processing and distribution.
DMC3 / Triplesat Constellation
The DMC3/Triplesat Constellation provides daily revisit times which are crucial for change detection, disaster monitoring and response planning. Beijing-based company, 21AT, lease 100% of the imaging capacity of the three satellites. SSTL operate the 3 satellite platforms from Guildford and 21AT plan and upload payload schedules and download data via a network of 21AT Ground Stations in China and Singapore.